Included

with Your Purchase

All of our Bernedoodles, Goldendoodles and Sheepadoodles are very happy, loving and well socialized. Our puppies come pre-spoiled and ready to be loved by you!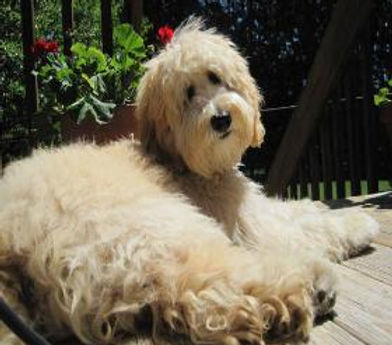 What's Included
Here is a list of everything that is included with the purchase of your puppy-
besides a well socialized happy puppy of course!
24 month written health warranty for genetic health disorders. Read my 24 Month Warranty.
Copies of their Father's registration papers, and all available health testing papers.
Copies of their Mother's registration papers and all available health testing papers.
A sample of the puppy food that they are currently eating if needed….TLC Whole Life Natural Puppy Food.
A toy that has been with mom and litter mates so your puppy can have familiar scents when he/she leaves my home and joins yours.
A brand new collar will be on your puppy at the time of pickup. It's usually too hard for owners to buy just the right size collar without seeing the puppy so I will provide this for them and you.
Lifetime training support. I am always available by email or phone if you have any questions.
No Breeding Rights
All puppies are priced for and sold on a strict, signed Spay/Neuter agreement. We no longer sell pups with breeding rights to anyone for any reason. Depending on the litter we may choose to sterilize pups before leaving by way of vasectomy for boys and O.S.S for girls. This will be at our discretion per litter and does not effect the posted price in any way if we choose to do the surgery or not. If not sterilized before leaving then the spay/neuter contract will be put in place. If sterilized it will be posted on the litter page. If nothing is posted about this then the puppies are not sterilized and will be required to be spayed/neutered by 9 months old.
Registration
We no longer register our puppies with CKC (Continental Kennel Club) if you wish I can get you individual registration papers for your puppy once proof or spay or neuter is sent. Not sure if they are valid in Canada.
Immunizations
First immunization given at 4 week old, this is a parvo-distemper combo vaccine, 2nd vaccine given at 6 weeks old, this is a parvo only vaccine, 3rd vaccine given at 8 weeks old, this is a 5 way vaccine which includes Canine Distemper Virus, Canine Adenovirus 2, Canine Parainfluenza Virus, Canine Parvovirus and Coronavirus. Your puppy will need 2 more 5 way vaccines before they are fully immune. These should be given 2-3 weeks apart and never with another vaccine.
WE DO NOT GIVE THE BORDATELLA VACCINE, LEPTO VACCINE OR LYME VACCINE. Those will be at your discretion to provide your puppy at their next vet visits for booster shots, if you feel they need them. Bordatella if you plan to board the puppy, Lepto if you live near a lot of standing water and Lyme if you live in a heavily populated tick area. NEVER get more than one vaccine at a time as this can overload your puppy's system and make them very sick.
All vaccines, checkups and medical care are provided by a licensed Veterinarian.
Microchip
I implant the microchips myself. I microchip all the pups from every litter. You will be responsible to register your pets microchip and a small one-time fee does apply. Here is where you register the microchip if you'd like to check it out: Microchip Registration Center. Each puppy is implanted with the chip in the shoulder blade area, the universal spot for all dogs. Since our warranty includes the identity of each puppy by microchip id# we will not waver on inserting the chip before the pup leaves.
Other Procedures
Bi-weekly wormings – 2, 4 and 6 weeks with Strongid-T wormer. Depending on the release age at 8 to 10 weeks of age puppies are dosed with Canine Safeguard brand wormer as well. It's best to use a few different types of de worming medicines as the pups grow to have the best results.
Removal of Dew Claws, this is done at 3 days old. We do not dock tails of any of our doodle puppies.
Extensive Veterinary Checkup. All pups get to visit our veterinarian and they get the best exam ever. Our Vet is great and our puppies love getting to see him. He goes over every pup with a fine-tooth comb checking – patella, bellies, teeth, eyes, ears, paws, skin and coat. Each pup goes home with an exam report. Any abnormal notes will be shared with potential puppy owners. 
Payment
We require a $500.00 non-refundable deposit to hold a spot on our deposit list.
The remaining balance is due at 6 weeks old ONLY if you want to pay with a personal check otherwise you can pay at the time you pick up your puppy if you will be paying in cash, cashiers check (preferred) or money order made payable to Apple Creek Doodles.
NO PERSONAL CHECKS or PAYPAL PAYMENTS WILL BE ACCEPTED AT THE TIME OF PICKUP.
All checks, money orders or cashiers checks should be made payable to: Apple Creek Doodles
The toy and collar you will get may be different from what's pictured.
Go back to the pricing page for more details.