Puppy

Pricing

We understand that you have many choices of breeders from where you can select your new Doodle Baby.

You will also see a variety of prices among these breeders. Remember that you will often get what you pay for.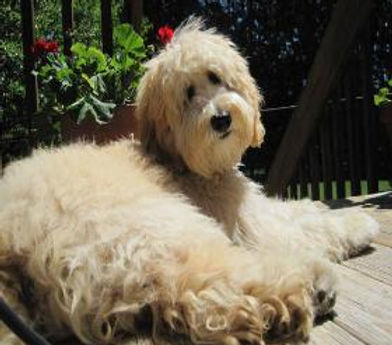 We feel that in order to get the best quality pet, you need to select a quality breeder who has taken the necessary steps to ensure that the parent dogs and their puppies are as healthy and genetically sound as possible. This kind of quality, of course, will mean a higher price tag, but will protect you and benefit you in the long run. A cheaper dog may mean a dog that is not healthy or of sound temperament, and could mean more heartache and money spent down the road.
It's not cheap to raise dogs, nor is it cheap to breed them. We have spent a lot of time, money, and effort into choosing our parent dogs and testing them before proceeding with breeding to help ensure healthy offspring and outstanding temperaments. We are confident that, should you purchase a puppy from us, you will be more than satisfied with your new family member and the service you receive!
Pets Only
We no longer sell puppies for breeding purposes to anyone. All of our puppies are sold as pets only and may come unable to reproduce.
Spay/Neuter
All puppies are sold on a strict spay/neuter agreement.
What we breed and how big they typically get
If they're not listed, we don't breed them.
Goldendoodle - Standard Sizes
Our standard Goldendoodles are not huge, typically 45-65 lbs. grown
F1bb Labadoodles - Standard Sizes
Our Standard Labradoodles are typically 45-65 lbs. grown
Bernedoodle - Medium Sizes
Our Medium Bernedoodles are typically 40-60 lbs. grown
Bernedoodle - Standard Size
Our Standard Bernedoodles are typically 60-85 lbs. grown
Sheepadoodles - Standard Size
Our Standard Sheepadoodles are typically 45-75 lbs. grown
General Pricing
All puppies are priced once born, here's a general price list for starters.
Reservation Deposit: $500
We require a deposit to reserve a puppy. [Is this deposit refundable? Might be good to note whether it is here.]
Labradoodles and Goldendoodles
$3000 (mini/petites $3500)
See litter page for details, and contact us for exact pricing if not posted.
Sheepadoodles
$3000 (Merles are $3500-4000)
See litter page for details, and contact us for exact pricing if not posted.
Bernedoodles
Priced by color/markings and can range anywhere from $2500-$4500
Traditional tri-colors are top range, bi-colors, sables and partis are mid range and solid colors would be bottom range.
There's a lot included in your Apple Creek Doodle purchase!
Health warranty, registration papers, food, toy, and more.